HP 564 Cyan Original Ink Cartridge (CB318WA)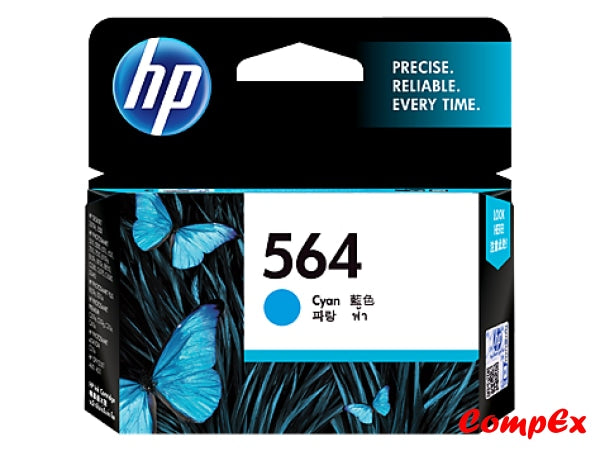 ---
Overview
Versatile Original HP inks meet all your printing needs—from lab-quality photos to laser-quality text. Produce water-, smudge- and fade-resistant prints, using individual ink cartridges and HP Advanced Photo Paper.
Features
Get impressive results for all your photos, creative projects and everyday prints, using inks designed to meet all your printing needs. Print long-lasting, lab-quality photos and laser-quality text.
With Original HP ink cartridges, you can print easily and affordably. These convenient individual ink cartridges can be replaced one at a time as needed. Save more and get a better value—use optional high-capacity cartridges.
Print with confidence—Original HP ink cartridges offer superior reliability and performance. Plus, HP Planet Partners makes it convenient to recycle your ink cartridges.
Specifications
Color(s) of printing supplies - Cyan
Ink drop - 5.5 pl HDW, 1.3 pl LDW
Ink types - Dye-based
Page yield (color) - ~300 pages
Page yield footnote
Tested in HP Photosmart D5460 Printer. Approximate average based on ISO/IEC 24711 or HP testing methodology and continuous printing. Actual yield varies considerably based on content of printed pages and other factors. For details see http://www.hp.com/go/learnaboutsupplies.
Other Customers also buy:
{"id":1259764868,"title":"HP 564 Cyan Original Ink Cartridge (CB318WA)","handle":"copy-of-hp564-cyan-ink-cartridge","description":"\u003ch4\u003eOverview\u003c\/h4\u003e\n\u003cp\u003eVersatile Original HP inks meet all your printing needs—from lab-quality photos to laser-quality text. Produce water-, smudge- and fade-resistant prints, using individual ink cartridges and HP Advanced Photo Paper.\u003c\/p\u003e\n\u003ch4\u003eFeatures\u003c\/h4\u003e\n\u003cp\u003eGet impressive results for all your photos, creative projects and everyday prints, using inks designed to meet all your printing needs. Print long-lasting, lab-quality photos and laser-quality text.\u003c\/p\u003e\n\u003cp\u003eWith Original HP ink cartridges, you can print easily and affordably. These convenient individual ink cartridges can be replaced one at a time as needed. Save more and get a better value—use optional high-capacity cartridges.\u003c\/p\u003e\n\u003cp\u003ePrint with confidence—Original HP ink cartridges offer superior reliability and performance. Plus, HP Planet Partners makes it convenient to recycle your ink cartridges.\u003c\/p\u003e\n\u003ch4\u003eSpecifications\u003c\/h4\u003e\n\u003cul\u003e\n\u003cli\u003eColor(s) of printing supplies - Cyan\u003c\/li\u003e\n\u003cli\u003eInk drop - 5.5 pl HDW, 1.3 pl LDW\u003c\/li\u003e\n\u003cli\u003eInk types - Dye-based\u003c\/li\u003e\n\u003cli\u003ePage yield (color) - ~300 pages\u003c\/li\u003e\n\u003c\/ul\u003e\n\u003cp\u003ePage yield footnote\u003c\/p\u003e\n\u003cp\u003eTested in HP Photosmart D5460 Printer. Approximate average based on ISO\/IEC 24711 or HP testing methodology and continuous printing. Actual yield varies considerably based on content of printed pages and other factors. For details see http:\/\/www.hp.com\/go\/learnaboutsupplies.\u003c\/p\u003e","published_at":"2015-08-25T18:13:00+02:00","created_at":"2015-08-27T11:03:07+02:00","vendor":"Hewlett Packard","type":"Ink Cartridge","tags":[],"price":37500,"price_min":37500,"price_max":37500,"available":true,"price_varies":false,"compare_at_price":null,"compare_at_price_min":0,"compare_at_price_max":0,"compare_at_price_varies":false,"variants":[{"id":4587466948,"title":"Default Title","option1":"Default Title","option2":null,"option3":null,"sku":"5466","requires_shipping":true,"taxable":true,"featured_image":null,"available":true,"name":"HP 564 Cyan Original Ink Cartridge (CB318WA)","public_title":null,"options":["Default Title"],"price":37500,"weight":38,"compare_at_price":null,"inventory_quantity":3,"inventory_management":"shopify","inventory_policy":"deny","barcode":""}],"images":["\/\/www.compex.co.zm\/cdn\/shop\/products\/hp-564-cyan-original-ink-cartridge-cb318wa_400.jpg?v=1587229287"],"featured_image":"\/\/www.compex.co.zm\/cdn\/shop\/products\/hp-564-cyan-original-ink-cartridge-cb318wa_400.jpg?v=1587229287","options":["Title"],"media":[{"alt":"Hp 564 Cyan Original Ink Cartridge (Cb318Wa)","id":6697981018214,"position":1,"preview_image":{"aspect_ratio":1.33,"height":451,"width":600,"src":"\/\/www.compex.co.zm\/cdn\/shop\/products\/hp-564-cyan-original-ink-cartridge-cb318wa_400.jpg?v=1587229287"},"aspect_ratio":1.33,"height":451,"media_type":"image","src":"\/\/www.compex.co.zm\/cdn\/shop\/products\/hp-564-cyan-original-ink-cartridge-cb318wa_400.jpg?v=1587229287","width":600}],"content":"\u003ch4\u003eOverview\u003c\/h4\u003e\n\u003cp\u003eVersatile Original HP inks meet all your printing needs—from lab-quality photos to laser-quality text. Produce water-, smudge- and fade-resistant prints, using individual ink cartridges and HP Advanced Photo Paper.\u003c\/p\u003e\n\u003ch4\u003eFeatures\u003c\/h4\u003e\n\u003cp\u003eGet impressive results for all your photos, creative projects and everyday prints, using inks designed to meet all your printing needs. Print long-lasting, lab-quality photos and laser-quality text.\u003c\/p\u003e\n\u003cp\u003eWith Original HP ink cartridges, you can print easily and affordably. These convenient individual ink cartridges can be replaced one at a time as needed. Save more and get a better value—use optional high-capacity cartridges.\u003c\/p\u003e\n\u003cp\u003ePrint with confidence—Original HP ink cartridges offer superior reliability and performance. Plus, HP Planet Partners makes it convenient to recycle your ink cartridges.\u003c\/p\u003e\n\u003ch4\u003eSpecifications\u003c\/h4\u003e\n\u003cul\u003e\n\u003cli\u003eColor(s) of printing supplies - Cyan\u003c\/li\u003e\n\u003cli\u003eInk drop - 5.5 pl HDW, 1.3 pl LDW\u003c\/li\u003e\n\u003cli\u003eInk types - Dye-based\u003c\/li\u003e\n\u003cli\u003ePage yield (color) - ~300 pages\u003c\/li\u003e\n\u003c\/ul\u003e\n\u003cp\u003ePage yield footnote\u003c\/p\u003e\n\u003cp\u003eTested in HP Photosmart D5460 Printer. Approximate average based on ISO\/IEC 24711 or HP testing methodology and continuous printing. Actual yield varies considerably based on content of printed pages and other factors. For details see http:\/\/www.hp.com\/go\/learnaboutsupplies.\u003c\/p\u003e"}

Translation missing: en.products.product.regular_price

K689.00

{"id":1259764868,"title":"HP 564 Cyan Original Ink Cartridge (CB318WA)","handle":"copy-of-hp564-cyan-ink-cartridge","description":"\u003ch4\u003eOverview\u003c\/h4\u003e\n\u003cp\u003eVersatile Original HP inks meet all your printing needs—from lab-quality photos to laser-quality text. Produce water-, smudge- and fade-resistant prints, using individual ink cartridges and HP Advanced Photo Paper.\u003c\/p\u003e\n\u003ch4\u003eFeatures\u003c\/h4\u003e\n\u003cp\u003eGet impressive results for all your photos, creative projects and everyday prints, using inks designed to meet all your printing needs. Print long-lasting, lab-quality photos and laser-quality text.\u003c\/p\u003e\n\u003cp\u003eWith Original HP ink cartridges, you can print easily and affordably. These convenient individual ink cartridges can be replaced one at a time as needed. Save more and get a better value—use optional high-capacity cartridges.\u003c\/p\u003e\n\u003cp\u003ePrint with confidence—Original HP ink cartridges offer superior reliability and performance. Plus, HP Planet Partners makes it convenient to recycle your ink cartridges.\u003c\/p\u003e\n\u003ch4\u003eSpecifications\u003c\/h4\u003e\n\u003cul\u003e\n\u003cli\u003eColor(s) of printing supplies - Cyan\u003c\/li\u003e\n\u003cli\u003eInk drop - 5.5 pl HDW, 1.3 pl LDW\u003c\/li\u003e\n\u003cli\u003eInk types - Dye-based\u003c\/li\u003e\n\u003cli\u003ePage yield (color) - ~300 pages\u003c\/li\u003e\n\u003c\/ul\u003e\n\u003cp\u003ePage yield footnote\u003c\/p\u003e\n\u003cp\u003eTested in HP Photosmart D5460 Printer. Approximate average based on ISO\/IEC 24711 or HP testing methodology and continuous printing. Actual yield varies considerably based on content of printed pages and other factors. For details see http:\/\/www.hp.com\/go\/learnaboutsupplies.\u003c\/p\u003e","published_at":"2015-08-25T18:13:00+02:00","created_at":"2015-08-27T11:03:07+02:00","vendor":"Hewlett Packard","type":"Ink Cartridge","tags":[],"price":37500,"price_min":37500,"price_max":37500,"available":true,"price_varies":false,"compare_at_price":null,"compare_at_price_min":0,"compare_at_price_max":0,"compare_at_price_varies":false,"variants":[{"id":4587466948,"title":"Default Title","option1":"Default Title","option2":null,"option3":null,"sku":"5466","requires_shipping":true,"taxable":true,"featured_image":null,"available":true,"name":"HP 564 Cyan Original Ink Cartridge (CB318WA)","public_title":null,"options":["Default Title"],"price":37500,"weight":38,"compare_at_price":null,"inventory_quantity":3,"inventory_management":"shopify","inventory_policy":"deny","barcode":""}],"images":["\/\/www.compex.co.zm\/cdn\/shop\/products\/hp-564-cyan-original-ink-cartridge-cb318wa_400.jpg?v=1587229287"],"featured_image":"\/\/www.compex.co.zm\/cdn\/shop\/products\/hp-564-cyan-original-ink-cartridge-cb318wa_400.jpg?v=1587229287","options":["Title"],"media":[{"alt":"Hp 564 Cyan Original Ink Cartridge (Cb318Wa)","id":6697981018214,"position":1,"preview_image":{"aspect_ratio":1.33,"height":451,"width":600,"src":"\/\/www.compex.co.zm\/cdn\/shop\/products\/hp-564-cyan-original-ink-cartridge-cb318wa_400.jpg?v=1587229287"},"aspect_ratio":1.33,"height":451,"media_type":"image","src":"\/\/www.compex.co.zm\/cdn\/shop\/products\/hp-564-cyan-original-ink-cartridge-cb318wa_400.jpg?v=1587229287","width":600}],"content":"\u003ch4\u003eOverview\u003c\/h4\u003e\n\u003cp\u003eVersatile Original HP inks meet all your printing needs—from lab-quality photos to laser-quality text. Produce water-, smudge- and fade-resistant prints, using individual ink cartridges and HP Advanced Photo Paper.\u003c\/p\u003e\n\u003ch4\u003eFeatures\u003c\/h4\u003e\n\u003cp\u003eGet impressive results for all your photos, creative projects and everyday prints, using inks designed to meet all your printing needs. Print long-lasting, lab-quality photos and laser-quality text.\u003c\/p\u003e\n\u003cp\u003eWith Original HP ink cartridges, you can print easily and affordably. These convenient individual ink cartridges can be replaced one at a time as needed. Save more and get a better value—use optional high-capacity cartridges.\u003c\/p\u003e\n\u003cp\u003ePrint with confidence—Original HP ink cartridges offer superior reliability and performance. Plus, HP Planet Partners makes it convenient to recycle your ink cartridges.\u003c\/p\u003e\n\u003ch4\u003eSpecifications\u003c\/h4\u003e\n\u003cul\u003e\n\u003cli\u003eColor(s) of printing supplies - Cyan\u003c\/li\u003e\n\u003cli\u003eInk drop - 5.5 pl HDW, 1.3 pl LDW\u003c\/li\u003e\n\u003cli\u003eInk types - Dye-based\u003c\/li\u003e\n\u003cli\u003ePage yield (color) - ~300 pages\u003c\/li\u003e\n\u003c\/ul\u003e\n\u003cp\u003ePage yield footnote\u003c\/p\u003e\n\u003cp\u003eTested in HP Photosmart D5460 Printer. Approximate average based on ISO\/IEC 24711 or HP testing methodology and continuous printing. Actual yield varies considerably based on content of printed pages and other factors. For details see http:\/\/www.hp.com\/go\/learnaboutsupplies.\u003c\/p\u003e"}

Translation missing: en.products.product.regular_price

K603.00

{"id":1259764868,"title":"HP 564 Cyan Original Ink Cartridge (CB318WA)","handle":"copy-of-hp564-cyan-ink-cartridge","description":"\u003ch4\u003eOverview\u003c\/h4\u003e\n\u003cp\u003eVersatile Original HP inks meet all your printing needs—from lab-quality photos to laser-quality text. Produce water-, smudge- and fade-resistant prints, using individual ink cartridges and HP Advanced Photo Paper.\u003c\/p\u003e\n\u003ch4\u003eFeatures\u003c\/h4\u003e\n\u003cp\u003eGet impressive results for all your photos, creative projects and everyday prints, using inks designed to meet all your printing needs. Print long-lasting, lab-quality photos and laser-quality text.\u003c\/p\u003e\n\u003cp\u003eWith Original HP ink cartridges, you can print easily and affordably. These convenient individual ink cartridges can be replaced one at a time as needed. Save more and get a better value—use optional high-capacity cartridges.\u003c\/p\u003e\n\u003cp\u003ePrint with confidence—Original HP ink cartridges offer superior reliability and performance. Plus, HP Planet Partners makes it convenient to recycle your ink cartridges.\u003c\/p\u003e\n\u003ch4\u003eSpecifications\u003c\/h4\u003e\n\u003cul\u003e\n\u003cli\u003eColor(s) of printing supplies - Cyan\u003c\/li\u003e\n\u003cli\u003eInk drop - 5.5 pl HDW, 1.3 pl LDW\u003c\/li\u003e\n\u003cli\u003eInk types - Dye-based\u003c\/li\u003e\n\u003cli\u003ePage yield (color) - ~300 pages\u003c\/li\u003e\n\u003c\/ul\u003e\n\u003cp\u003ePage yield footnote\u003c\/p\u003e\n\u003cp\u003eTested in HP Photosmart D5460 Printer. Approximate average based on ISO\/IEC 24711 or HP testing methodology and continuous printing. Actual yield varies considerably based on content of printed pages and other factors. For details see http:\/\/www.hp.com\/go\/learnaboutsupplies.\u003c\/p\u003e","published_at":"2015-08-25T18:13:00+02:00","created_at":"2015-08-27T11:03:07+02:00","vendor":"Hewlett Packard","type":"Ink Cartridge","tags":[],"price":37500,"price_min":37500,"price_max":37500,"available":true,"price_varies":false,"compare_at_price":null,"compare_at_price_min":0,"compare_at_price_max":0,"compare_at_price_varies":false,"variants":[{"id":4587466948,"title":"Default Title","option1":"Default Title","option2":null,"option3":null,"sku":"5466","requires_shipping":true,"taxable":true,"featured_image":null,"available":true,"name":"HP 564 Cyan Original Ink Cartridge (CB318WA)","public_title":null,"options":["Default Title"],"price":37500,"weight":38,"compare_at_price":null,"inventory_quantity":3,"inventory_management":"shopify","inventory_policy":"deny","barcode":""}],"images":["\/\/www.compex.co.zm\/cdn\/shop\/products\/hp-564-cyan-original-ink-cartridge-cb318wa_400.jpg?v=1587229287"],"featured_image":"\/\/www.compex.co.zm\/cdn\/shop\/products\/hp-564-cyan-original-ink-cartridge-cb318wa_400.jpg?v=1587229287","options":["Title"],"media":[{"alt":"Hp 564 Cyan Original Ink Cartridge (Cb318Wa)","id":6697981018214,"position":1,"preview_image":{"aspect_ratio":1.33,"height":451,"width":600,"src":"\/\/www.compex.co.zm\/cdn\/shop\/products\/hp-564-cyan-original-ink-cartridge-cb318wa_400.jpg?v=1587229287"},"aspect_ratio":1.33,"height":451,"media_type":"image","src":"\/\/www.compex.co.zm\/cdn\/shop\/products\/hp-564-cyan-original-ink-cartridge-cb318wa_400.jpg?v=1587229287","width":600}],"content":"\u003ch4\u003eOverview\u003c\/h4\u003e\n\u003cp\u003eVersatile Original HP inks meet all your printing needs—from lab-quality photos to laser-quality text. Produce water-, smudge- and fade-resistant prints, using individual ink cartridges and HP Advanced Photo Paper.\u003c\/p\u003e\n\u003ch4\u003eFeatures\u003c\/h4\u003e\n\u003cp\u003eGet impressive results for all your photos, creative projects and everyday prints, using inks designed to meet all your printing needs. Print long-lasting, lab-quality photos and laser-quality text.\u003c\/p\u003e\n\u003cp\u003eWith Original HP ink cartridges, you can print easily and affordably. These convenient individual ink cartridges can be replaced one at a time as needed. Save more and get a better value—use optional high-capacity cartridges.\u003c\/p\u003e\n\u003cp\u003ePrint with confidence—Original HP ink cartridges offer superior reliability and performance. Plus, HP Planet Partners makes it convenient to recycle your ink cartridges.\u003c\/p\u003e\n\u003ch4\u003eSpecifications\u003c\/h4\u003e\n\u003cul\u003e\n\u003cli\u003eColor(s) of printing supplies - Cyan\u003c\/li\u003e\n\u003cli\u003eInk drop - 5.5 pl HDW, 1.3 pl LDW\u003c\/li\u003e\n\u003cli\u003eInk types - Dye-based\u003c\/li\u003e\n\u003cli\u003ePage yield (color) - ~300 pages\u003c\/li\u003e\n\u003c\/ul\u003e\n\u003cp\u003ePage yield footnote\u003c\/p\u003e\n\u003cp\u003eTested in HP Photosmart D5460 Printer. Approximate average based on ISO\/IEC 24711 or HP testing methodology and continuous printing. Actual yield varies considerably based on content of printed pages and other factors. For details see http:\/\/www.hp.com\/go\/learnaboutsupplies.\u003c\/p\u003e"}

Translation missing: en.products.product.regular_price

K636.00

{"id":1259764868,"title":"HP 564 Cyan Original Ink Cartridge (CB318WA)","handle":"copy-of-hp564-cyan-ink-cartridge","description":"\u003ch4\u003eOverview\u003c\/h4\u003e\n\u003cp\u003eVersatile Original HP inks meet all your printing needs—from lab-quality photos to laser-quality text. Produce water-, smudge- and fade-resistant prints, using individual ink cartridges and HP Advanced Photo Paper.\u003c\/p\u003e\n\u003ch4\u003eFeatures\u003c\/h4\u003e\n\u003cp\u003eGet impressive results for all your photos, creative projects and everyday prints, using inks designed to meet all your printing needs. Print long-lasting, lab-quality photos and laser-quality text.\u003c\/p\u003e\n\u003cp\u003eWith Original HP ink cartridges, you can print easily and affordably. These convenient individual ink cartridges can be replaced one at a time as needed. Save more and get a better value—use optional high-capacity cartridges.\u003c\/p\u003e\n\u003cp\u003ePrint with confidence—Original HP ink cartridges offer superior reliability and performance. Plus, HP Planet Partners makes it convenient to recycle your ink cartridges.\u003c\/p\u003e\n\u003ch4\u003eSpecifications\u003c\/h4\u003e\n\u003cul\u003e\n\u003cli\u003eColor(s) of printing supplies - Cyan\u003c\/li\u003e\n\u003cli\u003eInk drop - 5.5 pl HDW, 1.3 pl LDW\u003c\/li\u003e\n\u003cli\u003eInk types - Dye-based\u003c\/li\u003e\n\u003cli\u003ePage yield (color) - ~300 pages\u003c\/li\u003e\n\u003c\/ul\u003e\n\u003cp\u003ePage yield footnote\u003c\/p\u003e\n\u003cp\u003eTested in HP Photosmart D5460 Printer. Approximate average based on ISO\/IEC 24711 or HP testing methodology and continuous printing. Actual yield varies considerably based on content of printed pages and other factors. For details see http:\/\/www.hp.com\/go\/learnaboutsupplies.\u003c\/p\u003e","published_at":"2015-08-25T18:13:00+02:00","created_at":"2015-08-27T11:03:07+02:00","vendor":"Hewlett Packard","type":"Ink Cartridge","tags":[],"price":37500,"price_min":37500,"price_max":37500,"available":true,"price_varies":false,"compare_at_price":null,"compare_at_price_min":0,"compare_at_price_max":0,"compare_at_price_varies":false,"variants":[{"id":4587466948,"title":"Default Title","option1":"Default Title","option2":null,"option3":null,"sku":"5466","requires_shipping":true,"taxable":true,"featured_image":null,"available":true,"name":"HP 564 Cyan Original Ink Cartridge (CB318WA)","public_title":null,"options":["Default Title"],"price":37500,"weight":38,"compare_at_price":null,"inventory_quantity":3,"inventory_management":"shopify","inventory_policy":"deny","barcode":""}],"images":["\/\/www.compex.co.zm\/cdn\/shop\/products\/hp-564-cyan-original-ink-cartridge-cb318wa_400.jpg?v=1587229287"],"featured_image":"\/\/www.compex.co.zm\/cdn\/shop\/products\/hp-564-cyan-original-ink-cartridge-cb318wa_400.jpg?v=1587229287","options":["Title"],"media":[{"alt":"Hp 564 Cyan Original Ink Cartridge (Cb318Wa)","id":6697981018214,"position":1,"preview_image":{"aspect_ratio":1.33,"height":451,"width":600,"src":"\/\/www.compex.co.zm\/cdn\/shop\/products\/hp-564-cyan-original-ink-cartridge-cb318wa_400.jpg?v=1587229287"},"aspect_ratio":1.33,"height":451,"media_type":"image","src":"\/\/www.compex.co.zm\/cdn\/shop\/products\/hp-564-cyan-original-ink-cartridge-cb318wa_400.jpg?v=1587229287","width":600}],"content":"\u003ch4\u003eOverview\u003c\/h4\u003e\n\u003cp\u003eVersatile Original HP inks meet all your printing needs—from lab-quality photos to laser-quality text. Produce water-, smudge- and fade-resistant prints, using individual ink cartridges and HP Advanced Photo Paper.\u003c\/p\u003e\n\u003ch4\u003eFeatures\u003c\/h4\u003e\n\u003cp\u003eGet impressive results for all your photos, creative projects and everyday prints, using inks designed to meet all your printing needs. Print long-lasting, lab-quality photos and laser-quality text.\u003c\/p\u003e\n\u003cp\u003eWith Original HP ink cartridges, you can print easily and affordably. These convenient individual ink cartridges can be replaced one at a time as needed. Save more and get a better value—use optional high-capacity cartridges.\u003c\/p\u003e\n\u003cp\u003ePrint with confidence—Original HP ink cartridges offer superior reliability and performance. Plus, HP Planet Partners makes it convenient to recycle your ink cartridges.\u003c\/p\u003e\n\u003ch4\u003eSpecifications\u003c\/h4\u003e\n\u003cul\u003e\n\u003cli\u003eColor(s) of printing supplies - Cyan\u003c\/li\u003e\n\u003cli\u003eInk drop - 5.5 pl HDW, 1.3 pl LDW\u003c\/li\u003e\n\u003cli\u003eInk types - Dye-based\u003c\/li\u003e\n\u003cli\u003ePage yield (color) - ~300 pages\u003c\/li\u003e\n\u003c\/ul\u003e\n\u003cp\u003ePage yield footnote\u003c\/p\u003e\n\u003cp\u003eTested in HP Photosmart D5460 Printer. Approximate average based on ISO\/IEC 24711 or HP testing methodology and continuous printing. Actual yield varies considerably based on content of printed pages and other factors. For details see http:\/\/www.hp.com\/go\/learnaboutsupplies.\u003c\/p\u003e"}

Translation missing: en.products.product.regular_price

K612.00

Translation missing: en.products.product.regular_price

K638.00

Sold Out

Translation missing: en.products.product.regular_price

K1,289.00

Sold Out