HP 920XL High Yield Black Original Ink Cartridge (CD975AE)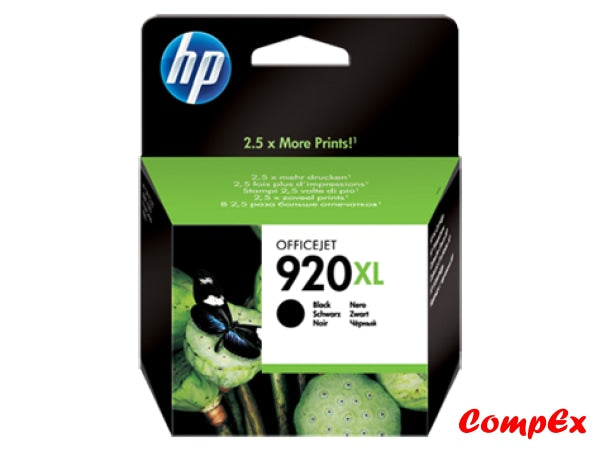 ---
Overview
HP 920XL Black Ink Cartridges print laser-quality black text, using Original HP inks. Print professional, plain paper documents, using pigment ink designed for the office.
Features
Print superior laser-quality documents with sharp black text that resists water and fading, using Original HP inks.
Deliver impressive printing results. These Original HP inks are formulated to produce fast-drying documents, especially when you use papers with the ColorLok logo. HP technology makes it easy to replace cartridges.
Get 2.5 times more black printed pages, using high-capacity ink cartridges designed for frequent printing2. High-capacity Original HP ink cartridges yield more printed pages and require fewer replacements than standard Original HP ink cartridges.
Specifications
Color(s) of printing supplies - Black
Ink drop - 14 pl HDW
Ink types - Pigment-based
Page yield (black and white) - 1200 pages
Page yield footnote
Tested in HP Officejet 6500 All-in-One Printer. Approximate average based on ISO/IEC 24711 or HP testing methodology and continuous printing. Actual yield varies considerably based on content of printed pages and other factors. For details, see http://www.hp.com/go/learnaboutsupplies
Other Customers also buy:
{"id":1274545988,"title":"HP 920XL High Yield Black Original Ink Cartridge (CD975AE)","handle":"hp-920xlb-black-ink-cartridge","description":"\u003ch4\u003eOverview\u003c\/h4\u003e\n\u003cp\u003eHP 920XL Black Ink Cartridges print laser-quality black text, using Original HP inks. Print professional, plain paper documents, using pigment ink designed for the office.\u003c\/p\u003e\n\u003ch4\u003eFeatures\u003c\/h4\u003e\n\u003cp\u003ePrint superior laser-quality documents with sharp black text that resists water and fading, using Original HP inks.\u003c\/p\u003e\n\u003cp\u003eDeliver impressive printing results. These Original HP inks are formulated to produce fast-drying documents, especially when you use papers with the ColorLok logo. HP technology makes it easy to replace cartridges.\u003c\/p\u003e\n\u003cp\u003eGet 2.5 times more black printed pages, using high-capacity ink cartridges designed for frequent printing2. High-capacity Original HP ink cartridges yield more printed pages and require fewer replacements than standard Original HP ink cartridges.\u003c\/p\u003e\n\u003ch4\u003eSpecifications\u003c\/h4\u003e\n\u003cul\u003e\n\u003cli\u003eColor(s) of printing supplies - Black\u003c\/li\u003e\n\u003cli\u003eInk drop - 14 pl HDW\u003c\/li\u003e\n\u003cli\u003eInk types - Pigment-based\u003c\/li\u003e\n\u003cli\u003ePage yield (black and white) - 1200 pages\u003c\/li\u003e\n\u003c\/ul\u003e\n\u003cp\u003ePage yield footnote\u003c\/p\u003e\n\u003cp\u003eTested in HP Officejet 6500 All-in-One Printer. Approximate average based on ISO\/IEC 24711 or HP testing methodology and continuous printing. Actual yield varies considerably based on content of printed pages and other factors. For details, see http:\/\/www.hp.com\/go\/learnaboutsupplies\u003c\/p\u003e","published_at":"2015-08-25T18:13:00+02:00","created_at":"2015-08-28T14:32:51+02:00","vendor":"Hewlett Packard","type":"Ink Cartridge","tags":[],"price":128900,"price_min":128900,"price_max":128900,"available":false,"price_varies":false,"compare_at_price":null,"compare_at_price_min":0,"compare_at_price_max":0,"compare_at_price_varies":false,"variants":[{"id":4618762308,"title":"Default Title","option1":"Default Title","option2":null,"option3":null,"sku":"4391","requires_shipping":true,"taxable":true,"featured_image":null,"available":false,"name":"HP 920XL High Yield Black Original Ink Cartridge (CD975AE)","public_title":null,"options":["Default Title"],"price":128900,"weight":94,"compare_at_price":null,"inventory_quantity":0,"inventory_management":"shopify","inventory_policy":"deny","barcode":""}],"images":["\/\/www.compex.co.zm\/cdn\/shop\/products\/hp-920xl-high-yield-black-original-ink-cartridge-cd975ae_318.jpg?v=1587229366"],"featured_image":"\/\/www.compex.co.zm\/cdn\/shop\/products\/hp-920xl-high-yield-black-original-ink-cartridge-cd975ae_318.jpg?v=1587229366","options":["Title"],"media":[{"alt":"Hp 920Xl High Yield Black Original Ink Cartridge (Cd975Ae)","id":6697988292710,"position":1,"preview_image":{"aspect_ratio":1.33,"height":451,"width":600,"src":"\/\/www.compex.co.zm\/cdn\/shop\/products\/hp-920xl-high-yield-black-original-ink-cartridge-cd975ae_318.jpg?v=1587229366"},"aspect_ratio":1.33,"height":451,"media_type":"image","src":"\/\/www.compex.co.zm\/cdn\/shop\/products\/hp-920xl-high-yield-black-original-ink-cartridge-cd975ae_318.jpg?v=1587229366","width":600}],"content":"\u003ch4\u003eOverview\u003c\/h4\u003e\n\u003cp\u003eHP 920XL Black Ink Cartridges print laser-quality black text, using Original HP inks. Print professional, plain paper documents, using pigment ink designed for the office.\u003c\/p\u003e\n\u003ch4\u003eFeatures\u003c\/h4\u003e\n\u003cp\u003ePrint superior laser-quality documents with sharp black text that resists water and fading, using Original HP inks.\u003c\/p\u003e\n\u003cp\u003eDeliver impressive printing results. These Original HP inks are formulated to produce fast-drying documents, especially when you use papers with the ColorLok logo. HP technology makes it easy to replace cartridges.\u003c\/p\u003e\n\u003cp\u003eGet 2.5 times more black printed pages, using high-capacity ink cartridges designed for frequent printing2. High-capacity Original HP ink cartridges yield more printed pages and require fewer replacements than standard Original HP ink cartridges.\u003c\/p\u003e\n\u003ch4\u003eSpecifications\u003c\/h4\u003e\n\u003cul\u003e\n\u003cli\u003eColor(s) of printing supplies - Black\u003c\/li\u003e\n\u003cli\u003eInk drop - 14 pl HDW\u003c\/li\u003e\n\u003cli\u003eInk types - Pigment-based\u003c\/li\u003e\n\u003cli\u003ePage yield (black and white) - 1200 pages\u003c\/li\u003e\n\u003c\/ul\u003e\n\u003cp\u003ePage yield footnote\u003c\/p\u003e\n\u003cp\u003eTested in HP Officejet 6500 All-in-One Printer. Approximate average based on ISO\/IEC 24711 or HP testing methodology and continuous printing. Actual yield varies considerably based on content of printed pages and other factors. For details, see http:\/\/www.hp.com\/go\/learnaboutsupplies\u003c\/p\u003e"}

Translation missing: en.products.product.regular_price

K689.00

{"id":1274545988,"title":"HP 920XL High Yield Black Original Ink Cartridge (CD975AE)","handle":"hp-920xlb-black-ink-cartridge","description":"\u003ch4\u003eOverview\u003c\/h4\u003e\n\u003cp\u003eHP 920XL Black Ink Cartridges print laser-quality black text, using Original HP inks. Print professional, plain paper documents, using pigment ink designed for the office.\u003c\/p\u003e\n\u003ch4\u003eFeatures\u003c\/h4\u003e\n\u003cp\u003ePrint superior laser-quality documents with sharp black text that resists water and fading, using Original HP inks.\u003c\/p\u003e\n\u003cp\u003eDeliver impressive printing results. These Original HP inks are formulated to produce fast-drying documents, especially when you use papers with the ColorLok logo. HP technology makes it easy to replace cartridges.\u003c\/p\u003e\n\u003cp\u003eGet 2.5 times more black printed pages, using high-capacity ink cartridges designed for frequent printing2. High-capacity Original HP ink cartridges yield more printed pages and require fewer replacements than standard Original HP ink cartridges.\u003c\/p\u003e\n\u003ch4\u003eSpecifications\u003c\/h4\u003e\n\u003cul\u003e\n\u003cli\u003eColor(s) of printing supplies - Black\u003c\/li\u003e\n\u003cli\u003eInk drop - 14 pl HDW\u003c\/li\u003e\n\u003cli\u003eInk types - Pigment-based\u003c\/li\u003e\n\u003cli\u003ePage yield (black and white) - 1200 pages\u003c\/li\u003e\n\u003c\/ul\u003e\n\u003cp\u003ePage yield footnote\u003c\/p\u003e\n\u003cp\u003eTested in HP Officejet 6500 All-in-One Printer. Approximate average based on ISO\/IEC 24711 or HP testing methodology and continuous printing. Actual yield varies considerably based on content of printed pages and other factors. For details, see http:\/\/www.hp.com\/go\/learnaboutsupplies\u003c\/p\u003e","published_at":"2015-08-25T18:13:00+02:00","created_at":"2015-08-28T14:32:51+02:00","vendor":"Hewlett Packard","type":"Ink Cartridge","tags":[],"price":128900,"price_min":128900,"price_max":128900,"available":false,"price_varies":false,"compare_at_price":null,"compare_at_price_min":0,"compare_at_price_max":0,"compare_at_price_varies":false,"variants":[{"id":4618762308,"title":"Default Title","option1":"Default Title","option2":null,"option3":null,"sku":"4391","requires_shipping":true,"taxable":true,"featured_image":null,"available":false,"name":"HP 920XL High Yield Black Original Ink Cartridge (CD975AE)","public_title":null,"options":["Default Title"],"price":128900,"weight":94,"compare_at_price":null,"inventory_quantity":0,"inventory_management":"shopify","inventory_policy":"deny","barcode":""}],"images":["\/\/www.compex.co.zm\/cdn\/shop\/products\/hp-920xl-high-yield-black-original-ink-cartridge-cd975ae_318.jpg?v=1587229366"],"featured_image":"\/\/www.compex.co.zm\/cdn\/shop\/products\/hp-920xl-high-yield-black-original-ink-cartridge-cd975ae_318.jpg?v=1587229366","options":["Title"],"media":[{"alt":"Hp 920Xl High Yield Black Original Ink Cartridge (Cd975Ae)","id":6697988292710,"position":1,"preview_image":{"aspect_ratio":1.33,"height":451,"width":600,"src":"\/\/www.compex.co.zm\/cdn\/shop\/products\/hp-920xl-high-yield-black-original-ink-cartridge-cd975ae_318.jpg?v=1587229366"},"aspect_ratio":1.33,"height":451,"media_type":"image","src":"\/\/www.compex.co.zm\/cdn\/shop\/products\/hp-920xl-high-yield-black-original-ink-cartridge-cd975ae_318.jpg?v=1587229366","width":600}],"content":"\u003ch4\u003eOverview\u003c\/h4\u003e\n\u003cp\u003eHP 920XL Black Ink Cartridges print laser-quality black text, using Original HP inks. Print professional, plain paper documents, using pigment ink designed for the office.\u003c\/p\u003e\n\u003ch4\u003eFeatures\u003c\/h4\u003e\n\u003cp\u003ePrint superior laser-quality documents with sharp black text that resists water and fading, using Original HP inks.\u003c\/p\u003e\n\u003cp\u003eDeliver impressive printing results. These Original HP inks are formulated to produce fast-drying documents, especially when you use papers with the ColorLok logo. HP technology makes it easy to replace cartridges.\u003c\/p\u003e\n\u003cp\u003eGet 2.5 times more black printed pages, using high-capacity ink cartridges designed for frequent printing2. High-capacity Original HP ink cartridges yield more printed pages and require fewer replacements than standard Original HP ink cartridges.\u003c\/p\u003e\n\u003ch4\u003eSpecifications\u003c\/h4\u003e\n\u003cul\u003e\n\u003cli\u003eColor(s) of printing supplies - Black\u003c\/li\u003e\n\u003cli\u003eInk drop - 14 pl HDW\u003c\/li\u003e\n\u003cli\u003eInk types - Pigment-based\u003c\/li\u003e\n\u003cli\u003ePage yield (black and white) - 1200 pages\u003c\/li\u003e\n\u003c\/ul\u003e\n\u003cp\u003ePage yield footnote\u003c\/p\u003e\n\u003cp\u003eTested in HP Officejet 6500 All-in-One Printer. Approximate average based on ISO\/IEC 24711 or HP testing methodology and continuous printing. Actual yield varies considerably based on content of printed pages and other factors. For details, see http:\/\/www.hp.com\/go\/learnaboutsupplies\u003c\/p\u003e"}

Translation missing: en.products.product.regular_price

K603.00

{"id":1274545988,"title":"HP 920XL High Yield Black Original Ink Cartridge (CD975AE)","handle":"hp-920xlb-black-ink-cartridge","description":"\u003ch4\u003eOverview\u003c\/h4\u003e\n\u003cp\u003eHP 920XL Black Ink Cartridges print laser-quality black text, using Original HP inks. Print professional, plain paper documents, using pigment ink designed for the office.\u003c\/p\u003e\n\u003ch4\u003eFeatures\u003c\/h4\u003e\n\u003cp\u003ePrint superior laser-quality documents with sharp black text that resists water and fading, using Original HP inks.\u003c\/p\u003e\n\u003cp\u003eDeliver impressive printing results. These Original HP inks are formulated to produce fast-drying documents, especially when you use papers with the ColorLok logo. HP technology makes it easy to replace cartridges.\u003c\/p\u003e\n\u003cp\u003eGet 2.5 times more black printed pages, using high-capacity ink cartridges designed for frequent printing2. High-capacity Original HP ink cartridges yield more printed pages and require fewer replacements than standard Original HP ink cartridges.\u003c\/p\u003e\n\u003ch4\u003eSpecifications\u003c\/h4\u003e\n\u003cul\u003e\n\u003cli\u003eColor(s) of printing supplies - Black\u003c\/li\u003e\n\u003cli\u003eInk drop - 14 pl HDW\u003c\/li\u003e\n\u003cli\u003eInk types - Pigment-based\u003c\/li\u003e\n\u003cli\u003ePage yield (black and white) - 1200 pages\u003c\/li\u003e\n\u003c\/ul\u003e\n\u003cp\u003ePage yield footnote\u003c\/p\u003e\n\u003cp\u003eTested in HP Officejet 6500 All-in-One Printer. Approximate average based on ISO\/IEC 24711 or HP testing methodology and continuous printing. Actual yield varies considerably based on content of printed pages and other factors. For details, see http:\/\/www.hp.com\/go\/learnaboutsupplies\u003c\/p\u003e","published_at":"2015-08-25T18:13:00+02:00","created_at":"2015-08-28T14:32:51+02:00","vendor":"Hewlett Packard","type":"Ink Cartridge","tags":[],"price":128900,"price_min":128900,"price_max":128900,"available":false,"price_varies":false,"compare_at_price":null,"compare_at_price_min":0,"compare_at_price_max":0,"compare_at_price_varies":false,"variants":[{"id":4618762308,"title":"Default Title","option1":"Default Title","option2":null,"option3":null,"sku":"4391","requires_shipping":true,"taxable":true,"featured_image":null,"available":false,"name":"HP 920XL High Yield Black Original Ink Cartridge (CD975AE)","public_title":null,"options":["Default Title"],"price":128900,"weight":94,"compare_at_price":null,"inventory_quantity":0,"inventory_management":"shopify","inventory_policy":"deny","barcode":""}],"images":["\/\/www.compex.co.zm\/cdn\/shop\/products\/hp-920xl-high-yield-black-original-ink-cartridge-cd975ae_318.jpg?v=1587229366"],"featured_image":"\/\/www.compex.co.zm\/cdn\/shop\/products\/hp-920xl-high-yield-black-original-ink-cartridge-cd975ae_318.jpg?v=1587229366","options":["Title"],"media":[{"alt":"Hp 920Xl High Yield Black Original Ink Cartridge (Cd975Ae)","id":6697988292710,"position":1,"preview_image":{"aspect_ratio":1.33,"height":451,"width":600,"src":"\/\/www.compex.co.zm\/cdn\/shop\/products\/hp-920xl-high-yield-black-original-ink-cartridge-cd975ae_318.jpg?v=1587229366"},"aspect_ratio":1.33,"height":451,"media_type":"image","src":"\/\/www.compex.co.zm\/cdn\/shop\/products\/hp-920xl-high-yield-black-original-ink-cartridge-cd975ae_318.jpg?v=1587229366","width":600}],"content":"\u003ch4\u003eOverview\u003c\/h4\u003e\n\u003cp\u003eHP 920XL Black Ink Cartridges print laser-quality black text, using Original HP inks. Print professional, plain paper documents, using pigment ink designed for the office.\u003c\/p\u003e\n\u003ch4\u003eFeatures\u003c\/h4\u003e\n\u003cp\u003ePrint superior laser-quality documents with sharp black text that resists water and fading, using Original HP inks.\u003c\/p\u003e\n\u003cp\u003eDeliver impressive printing results. These Original HP inks are formulated to produce fast-drying documents, especially when you use papers with the ColorLok logo. HP technology makes it easy to replace cartridges.\u003c\/p\u003e\n\u003cp\u003eGet 2.5 times more black printed pages, using high-capacity ink cartridges designed for frequent printing2. High-capacity Original HP ink cartridges yield more printed pages and require fewer replacements than standard Original HP ink cartridges.\u003c\/p\u003e\n\u003ch4\u003eSpecifications\u003c\/h4\u003e\n\u003cul\u003e\n\u003cli\u003eColor(s) of printing supplies - Black\u003c\/li\u003e\n\u003cli\u003eInk drop - 14 pl HDW\u003c\/li\u003e\n\u003cli\u003eInk types - Pigment-based\u003c\/li\u003e\n\u003cli\u003ePage yield (black and white) - 1200 pages\u003c\/li\u003e\n\u003c\/ul\u003e\n\u003cp\u003ePage yield footnote\u003c\/p\u003e\n\u003cp\u003eTested in HP Officejet 6500 All-in-One Printer. Approximate average based on ISO\/IEC 24711 or HP testing methodology and continuous printing. Actual yield varies considerably based on content of printed pages and other factors. For details, see http:\/\/www.hp.com\/go\/learnaboutsupplies\u003c\/p\u003e"}

Translation missing: en.products.product.regular_price

K636.00

{"id":1274545988,"title":"HP 920XL High Yield Black Original Ink Cartridge (CD975AE)","handle":"hp-920xlb-black-ink-cartridge","description":"\u003ch4\u003eOverview\u003c\/h4\u003e\n\u003cp\u003eHP 920XL Black Ink Cartridges print laser-quality black text, using Original HP inks. Print professional, plain paper documents, using pigment ink designed for the office.\u003c\/p\u003e\n\u003ch4\u003eFeatures\u003c\/h4\u003e\n\u003cp\u003ePrint superior laser-quality documents with sharp black text that resists water and fading, using Original HP inks.\u003c\/p\u003e\n\u003cp\u003eDeliver impressive printing results. These Original HP inks are formulated to produce fast-drying documents, especially when you use papers with the ColorLok logo. HP technology makes it easy to replace cartridges.\u003c\/p\u003e\n\u003cp\u003eGet 2.5 times more black printed pages, using high-capacity ink cartridges designed for frequent printing2. High-capacity Original HP ink cartridges yield more printed pages and require fewer replacements than standard Original HP ink cartridges.\u003c\/p\u003e\n\u003ch4\u003eSpecifications\u003c\/h4\u003e\n\u003cul\u003e\n\u003cli\u003eColor(s) of printing supplies - Black\u003c\/li\u003e\n\u003cli\u003eInk drop - 14 pl HDW\u003c\/li\u003e\n\u003cli\u003eInk types - Pigment-based\u003c\/li\u003e\n\u003cli\u003ePage yield (black and white) - 1200 pages\u003c\/li\u003e\n\u003c\/ul\u003e\n\u003cp\u003ePage yield footnote\u003c\/p\u003e\n\u003cp\u003eTested in HP Officejet 6500 All-in-One Printer. Approximate average based on ISO\/IEC 24711 or HP testing methodology and continuous printing. Actual yield varies considerably based on content of printed pages and other factors. For details, see http:\/\/www.hp.com\/go\/learnaboutsupplies\u003c\/p\u003e","published_at":"2015-08-25T18:13:00+02:00","created_at":"2015-08-28T14:32:51+02:00","vendor":"Hewlett Packard","type":"Ink Cartridge","tags":[],"price":128900,"price_min":128900,"price_max":128900,"available":false,"price_varies":false,"compare_at_price":null,"compare_at_price_min":0,"compare_at_price_max":0,"compare_at_price_varies":false,"variants":[{"id":4618762308,"title":"Default Title","option1":"Default Title","option2":null,"option3":null,"sku":"4391","requires_shipping":true,"taxable":true,"featured_image":null,"available":false,"name":"HP 920XL High Yield Black Original Ink Cartridge (CD975AE)","public_title":null,"options":["Default Title"],"price":128900,"weight":94,"compare_at_price":null,"inventory_quantity":0,"inventory_management":"shopify","inventory_policy":"deny","barcode":""}],"images":["\/\/www.compex.co.zm\/cdn\/shop\/products\/hp-920xl-high-yield-black-original-ink-cartridge-cd975ae_318.jpg?v=1587229366"],"featured_image":"\/\/www.compex.co.zm\/cdn\/shop\/products\/hp-920xl-high-yield-black-original-ink-cartridge-cd975ae_318.jpg?v=1587229366","options":["Title"],"media":[{"alt":"Hp 920Xl High Yield Black Original Ink Cartridge (Cd975Ae)","id":6697988292710,"position":1,"preview_image":{"aspect_ratio":1.33,"height":451,"width":600,"src":"\/\/www.compex.co.zm\/cdn\/shop\/products\/hp-920xl-high-yield-black-original-ink-cartridge-cd975ae_318.jpg?v=1587229366"},"aspect_ratio":1.33,"height":451,"media_type":"image","src":"\/\/www.compex.co.zm\/cdn\/shop\/products\/hp-920xl-high-yield-black-original-ink-cartridge-cd975ae_318.jpg?v=1587229366","width":600}],"content":"\u003ch4\u003eOverview\u003c\/h4\u003e\n\u003cp\u003eHP 920XL Black Ink Cartridges print laser-quality black text, using Original HP inks. Print professional, plain paper documents, using pigment ink designed for the office.\u003c\/p\u003e\n\u003ch4\u003eFeatures\u003c\/h4\u003e\n\u003cp\u003ePrint superior laser-quality documents with sharp black text that resists water and fading, using Original HP inks.\u003c\/p\u003e\n\u003cp\u003eDeliver impressive printing results. These Original HP inks are formulated to produce fast-drying documents, especially when you use papers with the ColorLok logo. HP technology makes it easy to replace cartridges.\u003c\/p\u003e\n\u003cp\u003eGet 2.5 times more black printed pages, using high-capacity ink cartridges designed for frequent printing2. High-capacity Original HP ink cartridges yield more printed pages and require fewer replacements than standard Original HP ink cartridges.\u003c\/p\u003e\n\u003ch4\u003eSpecifications\u003c\/h4\u003e\n\u003cul\u003e\n\u003cli\u003eColor(s) of printing supplies - Black\u003c\/li\u003e\n\u003cli\u003eInk drop - 14 pl HDW\u003c\/li\u003e\n\u003cli\u003eInk types - Pigment-based\u003c\/li\u003e\n\u003cli\u003ePage yield (black and white) - 1200 pages\u003c\/li\u003e\n\u003c\/ul\u003e\n\u003cp\u003ePage yield footnote\u003c\/p\u003e\n\u003cp\u003eTested in HP Officejet 6500 All-in-One Printer. Approximate average based on ISO\/IEC 24711 or HP testing methodology and continuous printing. Actual yield varies considerably based on content of printed pages and other factors. For details, see http:\/\/www.hp.com\/go\/learnaboutsupplies\u003c\/p\u003e"}

Translation missing: en.products.product.regular_price

K612.00

Translation missing: en.products.product.regular_price

K638.00

Sold Out